A customised web application for on-site services
Industry Sector
Public Authority for Communications
Services Provided
custom web app development

Cluster
Tech
The Context
IIC, the International Institute of Communications, is a mainly public body dedicated to promotion, research and dissemination in the field of transport and telecommunications.
As the implementing body for the Liguria Region, IIC is committed to developing an application to facilitate tourist mobility in the cross-border region of Italy and France. The project was entrusted to us through a public tender and is part of the international cooperation programme INTERREG ALCOTRA 2014-2020, within the broader strategy of the PITER ALPIMED project (Integrated Territorial Plan).
Aziona's challenge: to create, from scratch, a web application for comprehensive tourist facilitation, linking several services in the specified geographical area, the Maritime Alps.
The development requirements included
Highlighting major tourist events with the ability to interact with customer service for information and reservations via the app.
Searchable and selectable accommodation and hotel facilities with geographical relevance.
Sustainable mobility, emphasised by an interactive map with e-bike routes and charging stations, and rail timetables.
Accessible routes for tourists with reduced mobility, selected by Alpimed.
Access to up-to-date information from the Alpimed world, strictly geolocated.
We provided end-to-end work, from project analysis to the deployment of the web application. The analysis phase outlined the required functionality and included a detailed requirements gathering that highlighted UX design opportunities.
The phase following the requirements gathering and blueprint definition was the creation of a navigable prototype of the web application.
This allowed us to verify the UX and UI through usability testing and validate the consistency of the navigation flow and information provided.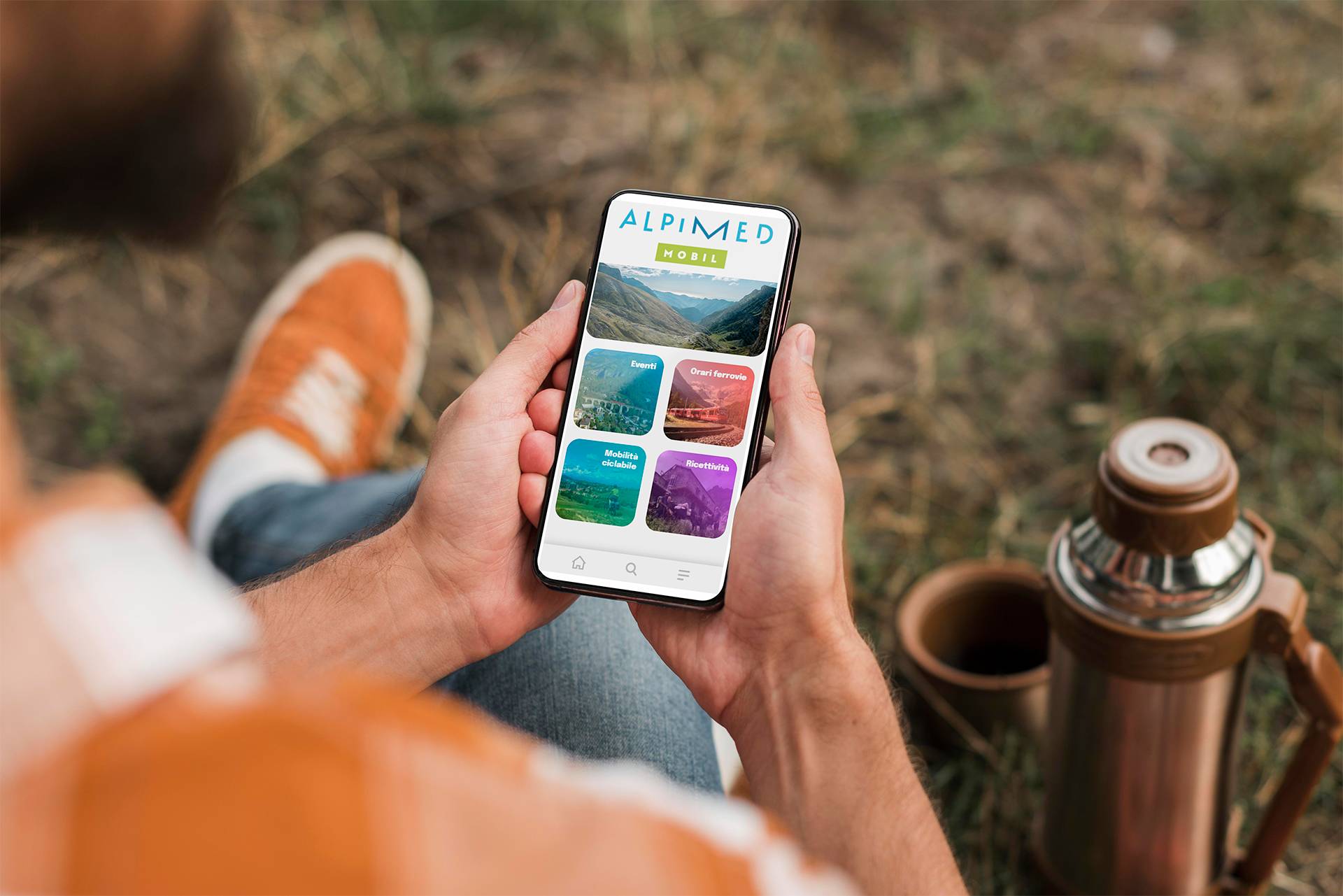 The dedicated development team then moved on to building the actual application, primarily using PHP and JavaScript, once this design phase was complete.
We provided pre-release testing, quality assurance and maintenance, with a maintenance window of 5 years from the release date.
Achieved Results
To develop technological solutions and UX and UI design to meet the strategic needs of the client and put into production a fully customised web application.
The primary need was to provide access to the digital service in the cross-border area, with potential limitations in terms of bandwidth availability. There was also a requirement to develop geolocalisation functions differentiated according to the type of user.
The use case required a tool that could be easily used by users exploring the cross-border area, regardless of the device used and the available bandwidth. Therefore, we focused on sustainable mobility services (e-bikes, public transport), accommodation (hotels, restaurants and related facilities) and accessible routes for users with limited mobility. The focus was on providing a tool adapted to the territorial tourist destination that could improve the user experience without distorting or compromising the entity's objectives, particularly in the areas of sustainability and accessibility in its territorial jurisdiction.